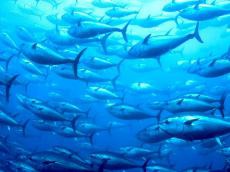 By Azernews
By Narmina Mammadova
Azerbaijan, which seeks to improve ecological situation of the Caspian sea and protect marine species on the brink of extinction, including the salmon, established fish-breeding farms that annually release certain amount of fish into the waterbodies of the country.
As many as 370 million young fish of various species were released into the water basins of Azerbaijan in January-September 2018.
This was stated by head of the department for increasing and protecting the biological resources of water basins of the Ministry of Ecology and Natural Resources Farida Alekberova, Azertag reported.
Alekberova said that, 75,000 fry belong to salmon breeds, 7.59 million - to sturgeon, and 362 million of them are carps.
Nine species of fish were on the verge of extinction in Azerbaijan in 2014. These included barbel chanari, Caspian trout (salmon), sea pike perch, Chekhon, Caspian barbel, South Caspian white-eyed and spike, river trout and shirvan roach.
These species of fish are rare at present, and one of the reasons for this is the lack of spawning grounds, Senior Researcher of the Ichthyology Laboratory of the Zoology Institute of the National Academy of Sciences of Azerbaijan Namig Mustafayev believes.
The scientist noted that the majority of Caspian fish rise along the rivers to spawn, but cannot enter 90 percent of the rivers and swim the required distance because of the construction of reservoirs.
A decrease in the sturgeon population was influenced by a decrease in food supply and illegal fishing. The pollution of the Caspian oil also played a role in reducing fish populations, the scientist stated.
According to scientists, usually poaching is one of the main reasons of reducing fish populations.
Last month, in connection with the start of the fishing season, the Water Transport Police Department of the General Directorate of the Police for Transport under the Internal Affairs Ministry launched raids to identify people engaged in illegal fishing.