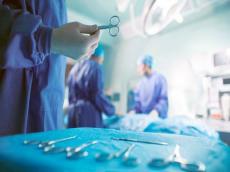 By Azernews
By Nubar Ahmadova
The number of surgeries in Azerbaijan has tripled in the past 12 years.
As many as 267,100 people were operated on in the country's hospitals last year, whereas in 2015 this figure amounted to 105,500.
Number of patients who underwent surgery in the ambulatory-polyclinic facilities in 2005 totaled 38,600 people while last year's indicator shows 97,100.
In 2017, out of every 1,000 persons, about 27 had surgery in hospitals (around 13 in 2005), and ten people were operated in outpatient facilities.
An increase was observed in number of surgeries performed for cardiovascular diseases caused by the recent growth of people suffering from cardiovascular disorders in the country, according to the Azerbaijani Health Ministry.
This refers not only to Azerbaijan, but to the world in general, as but global percentage of the like sicknesses has dramatically gone upwards.
While cardiovascular diseases stand on the top of country's surgery list, cancer comes second and the third place is taken by traumatic diseases, for instance traumatic pathologies.
Today, country's medical centers and pharmaceutical industry are established on the world class level. Over the past decade, healthcare expenditures in the state budget have increased by more than seven times.
Nowadays, a number of diseases with previously ineffectual remedies is being treated, complicated surgeries, such as liver, bone marrow transplantation, artificial joint and open and closed heart surgeries are carried out.
These surgeries have been carried out in Azerbaijan for 15 years. According to the country's laws, organs can be transplanted only from a living donor. Annually, about 1,500 people in Azerbaijan need a donor, but since the organs cannot be taken from the corpse, only 100-120 operations for the transplantation of organs of living people are carried out.
A special working group has been set up to determine terms and conditions for cadaveric transplantation, technical specifications for clinics in order to create a legal framework which would allow transplantation from the corpse. 
Importation of the cornea and surgeries for its transplantation to patients are other remarkable examples of local medical industry. As for 2018 data, 3,000 patients waiting for corneal transplantation have been registered at the National Ophthalmology Center.