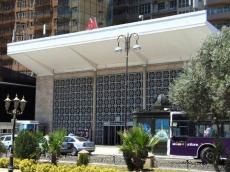 By Azernews
By Kamila Aliyeva
Khatai station, the terminal station of the second Green line of Baku Metro, will be closed for repair works on September 27.
The station will not operate, and, thus, the movement of trains in the direction of "Jafar Jabbarly – Khatai" and back will be suspended until August 2019, accordin to the press service of Baku Metro.
It is necessary to replace three escalators commissioned in 1968, the message says. 
Instead of three old escalators of the LT-2 type, four new escalators of Viktoriya Tube type will be installed by German company ThyssenKrupp Fahrtreppe. At the same time, along with the replacement of escalators, the lobby of the station will also be overhauled.
However, the Jafar Jabbarly station will work, and passengers can use it when passing to 28 May station.
All repair, restoration and installation work is scheduled to be completed on August 10, 2019.
Meanwhile, in connection with the closure of Khatai metro station for repairs, the bus traffic scheme (30 and 49 buses) will be temporarily changed, the Baku Transport Agency (BTA) reported.
Baku Metro, opened in 1967, was the first subway system to be launched in the East. Serving the residents and guests of the capital for more than 50 years, Baku Metro is the most affordable and safest way to get around the city.
Having 25 stations on three lines – Green, Red and Purple – the Baku Metro is 36.63 km in length. By 2030, it is planned to expand the infrastructure of Baku Metro and create a giant underground transport network consisting of 76 stations, six electric depots, and five lines with a total length of 119.1 kilometers.