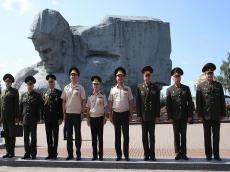 By Trend
The First Deputy Minister of Defense of the Republic of Azerbaijan – Chief of the General Staff of the Armed Forces Colonel General Najmeddin Sadikov has begun an official visit to the Republic of Belarus on August 21, the Azerbaijani Defense Ministry said.
First, a delegation led by Colonel General N. Sadikov laid a wreath at the Eternal Flame near the "Brest Fortress Hero" memorial complex.
Within the framework of the visit, the prospects of development of military cooperation between the Republic of Azerbaijan and the Republic of Belarus will be discussed.