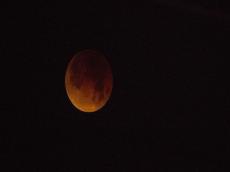 By Azernews
By Laman Ismayilova
Lunar eclipse is a wonderful event that enchants everyone. It is a beautiful and amazing spectacle.
This beautiful cosmic event has always captured the imagination of people and cultures. In ancient times, people believed that it was a sign of great change. It was believed that a Lunar Eclipse would bring a rise of evil power.
A total lunar eclipse will be fully visible in Azerbaijan. The Moon will pass through the centre of the Earth's shadow on July 27.
The eclipse will begin at 22:24 (Baku time), will reach a maximum at 00:21, and end at 02:19. It will be the first central lunar eclipse since June 15, 2011. 
Totality will last for 103 minutes, making it the longest eclipse of the 21st century.
The lunar eclipse will be completely visible over Eastern Africa, and Central Asia, seen rising over South America, Western Africa, and Europe, and setting over Eastern Asia, and Australia. The magnitude of the eclipse is 1.609.
A lunar eclipse occurs when the Moon passes within Earth's shadow. As the eclipse begins, Earth's shadow first darkens the Moon slightly.
Then, the shadow begins to "cover" part of the Moon, turning it a dark red-brown color or other color. The color can vary based on atmospheric conditions.
The lunar eclipse is completely safe to view with the naked eye, and far more visible than a solar eclipse.
The first lunar eclipse this year took place on January 31. The next lunar eclipse is predicted for 2021.