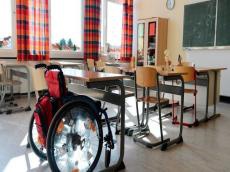 By Azernews
By Naila Huseynli 
As the number of vulnerable people grows, their communities become less capable of addressing all their basic needs, including their ability to access to education.
 In this regard, the State applied new rules in order to support people who are in need of special protection.
Henceforth, persons in need of special social protection will be exempted from payment during their education in state educational institutions on a fee-paying basis in accordance with the law on "Vocational Education".
Moreover, the education of children who have lost their parents and are deprived of parental care, invalids of I, II and III groups, invalids of wars and family members of martyrs, persons under the age of 20, whose parent is a disabled person of the 1st group, persons with monthly income less than the subsistence level will be paid at the expense of the state budget.
One of the main targets is that the number of children from vulnerable groups receiving vocational education has been at least 5 percent of the total number receiving vocational education by 2020, in accordance with the Strategic Roadmap for Vocational Education and Training in Azerbaijan.
In this regard, the law on "Vocational Education" provides for the creation of an appropriate educational environment and conditions for the involvement of older people in need of special social protection and other persons from vulnerable groups of the population, as well as further provision of these categories of the population with a job appropriate to their skills and experiences.
For the first time in the 2017-2018 academic years, the Baku State Center for Vocational Training in Technology opened a group in the "Refrigeration equipment engineer" category for people with disabilities, and nine students received inclusive education.
It is expected that in the next academic year other vocational education institutions will also open groups for various specialties for people in need of special social protection.
In the last years, the State applied a program regarding the innovative programs in order to provide the education of persons with disabilities with equal access to education at all levels of education and to create an unobstructed environment for their education.
Inclusive education for the people with disability had been one the most necessary program and approved by presidential decree dated December 14, 2017. This declaration covers many aspects of the rights of persons with disabilities on The Convention on the Rights of Persons with Disabilities, adopted by the United Nations General Assembly, on December 13, 2006.
Inclusive education has become an international concept, started to implement in the formal schooling systems in Azerbaijan by the order of the Minister of Education.
Currently, the number of persons with disabilities in Azerbaijan is about 620,000, Ministry of Labor and Social Welfare of the population as of April 2018. This is about 6 percent of the population in the country. From 620,000 to 270,000 are people under the age of 18.