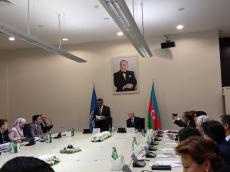 By Azernews
By Rashid Shirinov
Under-five mortality rate in Azerbaijan fell from 28 to 12.8 per 1,000 live births, Azerbaijan's Health Minister Ogtay Shiraliyev said on July 5.
He made the remarks at the "National Conference on Health Reforms in the Context of Sustainable Development Goals (SDGs) Implementation," held in Baku with the participation of Tedros Adhanom Ghebreyesus, Director General of the World Health Organization (WHO).
Shiraliyev noted that the maternal mortality rate was significantly reduced, and the fight against infectious and other diseases was stepped up in Azerbaijan. He added that child and maternal mortality in the world has declined to half over the past 25 years.
The minister also said that extreme poverty was eliminated in Azerbaijan, while absolute poverty fell from 49 to 5 percent.
"Today, we can say with certainty that under the leadership of President Ilham Aliyev, poverty eradication and solution of major social problems have been achieved in the country," Shiraliyev said.
He also noted that the government of Azerbaijan will continue to cooperate with its partners for the future of humanity.
"I am confident that we will achieve all our goals," the minister said.
Azerbaijan has recorded a dramatic and accelerating progress in reducing mortality among children in recent years. The child mortality rate, especially among infants, has decreased threefold in Azerbaijan over the past 25.
Between 1996 and 2015, child mortality under-five rate of Azerbaijan was declining at a moderating rate to shrink from 92.1 deaths per 1,000 live births in 1996 to 31.7 deaths per 1,000 live births in 2015.
During the conference, Shiraliyev also said that the WHO offered Azerbaijan its recommendations on the use of compulsory health insurance and expert assistance.
The WHO also suggested Azerbaijan to present its model of compulsory health insurance to other countries as an example.
Azerbaijan's health minister added that the resolutions adopted at the initiative of the WHO Director General and the reforms carried out are aimed at preventing infectious and non-communicable diseases.
Azerbaijan has a long history of active participation in WHO's governing bodies. Since 2006, the Ministry of Health has twice been represented on WHO's Executive Board, and once on the WHO European Region's Standing Committee of the Regional Committee.
In 2011, Azerbaijan hosted WHO's annual governance meeting for the European Region – the 61st session of the WHO Regional Committee for Europe. At the meeting, ministers of health and public health experts from the 53 countries in the WHO European Region agreed on action plans to address major public health challenges and growing threats across the European Region.