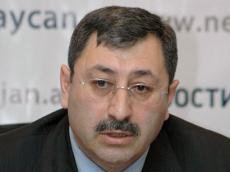 By Azernews
By Rashid Shirinov
A proposal on the date of the summit of the heads of state of the Caspian countries has been received, but first of all it should be announced by the host country, Azerbaijan's Deputy Foreign Minister Khalaf Khalafov told reporters on June 13.
He noted that the summit is scheduled for the first half of August.
"Therefore, working meetings are envisaged. At least one working meeting will be held. And the meeting of foreign ministers can be held the day before the event," the deputy FM said.
Khalafov said that the text of the Convention on the legal status of the Caspian Sea has been agreed upon. Currently the countries are implementing internal procedures for signing the document.
"We hope for the Convention to be signed during the summit. Also, issues of bilateral meetings are being worked out, the contacts are being maintained, and the meetings and consultations are being held currently, and it is difficult to say now when they will be completed," he noted.
The deputy FM added that this work is carried out in parallel with preparation for the Convention signing, that is, it does not depend on the Convention, but is a format of separate negotiations.
The issue of determining the legal status of the Caspian Sea became relevant after the collapse of the USSR, when the emergence of new subjects of international law - Azerbaijan, Kazakhstan and Turkmenistan - raised the issue of delimitation of the Caspian Sea between the five littoral countries.
The difficulties in determining the status of the Caspian Sea were linked, in particular, with the recognition of it as a lake or sea, the delineation of which is regulated by different provisions of international law.
The leaders of the five countries met for the first time in 2002 in Ashgabat. The second Caspian summit was held in Tehran in 2007, the third one in Baku in 2010, and the fourth summit – in Astrakhan in 2014.
Khalafov also touched upon the issue of demarcation of the Azerbaijan-Russia border. He said that this is a long process and the two countries continue to work on the issue.
"At the first stage, demarcation will affect 70 kilometers, at the second – 60 kilometers, and so it will continue. Working groups meet periodically, go to the border areas if necessary, work on the ground, where the demarcation points should be set through coordinates, etc." he noted.
As for the delimitation of the Azerbaijan-Georgia border, the deputy FM said that this process is in a relatively passive state.
"There is hope that the Georgian side will intensify this work. We are ready to meet at all levels – those of experts and commissions. Azerbaijan has sent everything necessary to the Georgian side and is ready to continue the work in accordance with its reaction," Khalafov said.
He added that the specific date for the meeting of the Commission is not yet known.