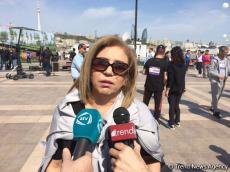 Trend:
Baku Marathon 2018 is an excellent project promoting healthy lifestyle, deputy chairman of the parliament of Azerbaijan, Bahar Muradova told Trend May 13.
Such events as the Baku Marathon reflect support to the policy aimed at ensuring the interests of citizens in Azerbaijan, said Muradova, who is also taking part in the competition.
She believes that everyone, regardless of the age or position, should take part in such kind of activities.
"First of all it is an excellent project promoting a healthy lifestyle. This is an example of cohesion of people of different professions for a common goal. Aside from specific goals, such events reflect support to the unity of citizens, solidarity and state policy aimed at ensuring the interests of citizens. Therefore, today I feel a great sense of pride to be among thousands of people here. Of course, not victory, but participation is important here. I wish everyone good luck," added Muradova.
Baku Marathon 2018 kicked off May 13 under the auspices of the Heydar Aliyev Foundation.
Held for the third time, this year's Marathon retains its motto: Win the Wind.
As many as 18,000 people have been registered to take part in this marathon.
The Baku Marathon 2018 started at the National Flag Square and will run 21 kilometers all the way to the Baku Olympic Stadium.
Residents of Azerbaijan's Ganja, Sumgayit, Mingachevir, Guba, Gusar, Lankaran, Astara, Nakhchivan, Gabala, Shamakhi, Zagatala, Sheki, Oguz and other regions are taking part in the Baku marathon.
Aside from Azerbaijani citizens, representatives of Italy, France, Russia, Turkey, Iran, Georgia, Ukraine, Belarus, Great Britain, United Arab Emirates, Iraq, US, China, Malaysia, India, Japan, Uzbekistan, Kazakhstan, Turkmenistan, Colombia, Lithuania, Latvia, Germany, Czech Republic and other countries are also participating in the competition.