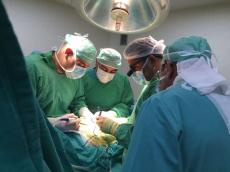 By  Trend
This year 76 patients have undergone transplantation operations at the Central Hospital of Oil Workers of Azerbaijan, nine patients undergone liver transplantation, Mirjalal Kazimi, the director of the Department of Surgery and Transplantation, said at a press conference on December 13.
He said that 22 percent of patients were children, the youngest of whom is five years old.
"Unfortunately, compared with the growing number of patients, there are fewer donors, and their number is inversely proportional," Kazimi said.
He noted that one of the most common methods for increasing the donor bank is the use of organs from deceased donors for transplantation, he said, adding that the state is developing a concept in this regard.