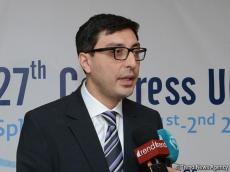 By  Trend
Secretary General of the Azerbaijan Gymnastics Federation (AGF) Farid Gayibov has been elected as the President of the European Union of Gymnastics (UEG).

After the election process, Gayibov spoke to Trend News Agency in an interview.

"Of course, I first of all want to congratulate AGF President Mehriban Aliyeva. This year we mark the 15th anniversary of our federation. Mehriban Aliyeva has been heading our federation for 15 years," he said.

He then congratulated AGF President Mehriban Aliyeva, who, in 15 years prepared a manager capable of managing the European Union of Gymnastics today.

Speaking about the forthcoming activities as the UEG president, Gayibov noted that new projects will be implemented.

"I've been working as UEG Vice President for the past four years and I have brought new projects to the European Federation. We will continue some projects in the next four years, because these projects were successful. Of, course, we will have new projects too. We will present new projects to Europe," he added.

He noted that the UEG presidential election campaign was difficult.

"As you know, Azerbaijan has a say in the field of sports in recent years. Over the past few years, after the results of Azerbaijani athletes, the great international competitions held in our country, Azerbaijan became even more recognizable and gained prestige," said Gayibov.

"There were many European countries here and it was difficult to establish policies with each of them, but we did it," he said.

"In my speech today, I talked about what the Federation achieved in 15 years. Everyone sees what the Azerbaijan Gymnastics Federation has done in 15 years, and, of course, their trust today was the result of the work done," he added.

Gayibov also thanked Trend News Agency for its support.