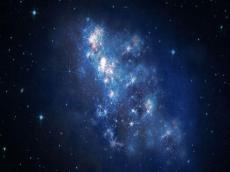 By Azernews
By Aygul Salmanova
Azerbaijani scientists together with their European counterparts in Shamakhi Astrophysical Observatory began to carry out spectral observations of a new star exploded three months ago.
Khidir Mikayilov, the Deputy Director on Scientific Research of Shamakhi Astrophysical Observatory of the Azerbaijan National Academy of Sciences (ANAS) told Trend about this interesting fact.
Due to the old equipment of the observatory it was not possible to join the research on an international scale. Now, however, existing modern equipment creates conditions for this, Mikayilov said.
"There is a special group in the world engaged in monitoring the celestial sphere. Based on the analysis of the photos they took, it became clear that a new star had been found. This star called 'Nova' was very weak. Recently, it has increased its brightness more than 100 times," added Mikayilov.
"We will continue our research until the star returns to its previous state. This star exploded two times during the month. From this point of view, this object is of particular interest. Therefore, we will intensively continue its spectral observations."
Since August 7, 2017, spectral observations of the Nova SCT 2017 star with high resolution have been carried out at a two-meter telescope of the Shamakhy Astrophysical Observatory. The spectra were obtained using Fiber Optic Echelle Spectrograph in the Cassegrain focus with a 4k × 4k pixel CCD camera, a in the framework of an international project.
With the development of space technologies, the interest in space industry is increasing. The development of the space industry is very important for Azerbaijan and the special attention is given to the Science Development Foundation to local personnel training in the field of space research.
Shamakhi Astrophysical Observatory, the largest astrophysical observatory in Azerbaijan and the whole Caucasus is also located in Pirkuli, Shamakhi, on the south-eastern foothills of the Great Caucasus Mountain ridge, on the basis of "Astrophysics" sector of Physics Institution of the ANAS.
The observatory named after famous Azerbaijani architect, astronomer, mathematician and philosopher Nasreddin Tusi is equipped with modern facilities and one of the largest in the CIS telescope with a mirror diameter of 2 meters.
The observatory has made a significant contribution to extensive Soviet and post-Soviet scientific programms in astrophysics and fundamental astronomy. The observatory works on three main scientific trends: the physics of stars, investigation of solar system bodies and solar physics and solar-terrestrial relations.
Current investigations also include the effects of space weather, the history of astronomy, theoretical astrophysics, radio-astronomy, practical astronomy, celestial mechanics, galaxies and the dynamics of artificial satellites.