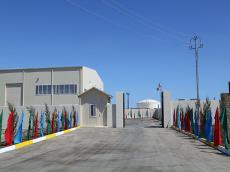 By Azernews
By Rashid Shirinov
Top authority of the Azerbaijani Defense Ministry participated in the opening of the Repair and Maintenance Center for multiuse armored vehicles.
The center will carry out repair and maintenance work of the armored corps of the military, as well as the machinery and weapon systems installed on the mobile units and available in the arsenal of the Azerbaijani Armed Forces, the ministry reported on August 8.
The center is provided with necessary conditions for the training of drivers, gun-layers, operators, as well as other specialists.
Minister of Defense Colonel General Zakir Hasanov toured the weapons storage, laboratory and other office and administrative premises of the center. After the briefing on activities of the center, Hasanov gave appropriate instructions in connection with the expansion of its activities.
The Defense Ministry noted that works related to the development of the Azerbaijani Armed Forces are being continued in accordance with the directions given by the President of Azerbaijan, Supreme Commander-in-Chief Ilham Aliyev.
Azerbaijani Armed Forces, which today are considered the most modern army in the Caucasus, consist of Air Force and Air Defense Forces, the Navy, and the Land Forces.
The skills and combat readiness of the Azerbaijani army are growing year by year, as the country's Armed Forces regularly conduct military exercises. The Azerbaijani army is supplied with modern weapons and technical equipment for maintaining a high level of combat capability.
The army building process is of particular importance for Azerbaijan, as twenty percent of the country's territory is under Armenian occupation and the country is in a state of war with Armenia.