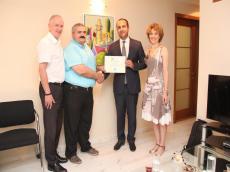 By Azernews
By Amina Nazarli
The Icherisheher Historical and Architectural Reserve, one of the most visited tourist attractions in the world, has joined the Mayors for Economic Growth program within the framework of the Eastern Partnership initiated by the European Union.
Mayors for Economic Growth (M4EG), an EU initiative launched in October 2016, aims at strengthening local authorities' capacity to implement smart local economic development through enhanced local governance, better planning and more efficient municipal management.
Through the initiative, the joining cities should develop and implement local sustainable economic development plans with technical assistance and scientific support from the EU. The champions will receive grant support for implementing pilot projects that should also serve as models of local economic development actions.
The Administration of the Icherisheher Historical and Architectural Reserve become the first entity from Azerbaijan joining the M4EG.
The honorary certificate of Mayors for Economic Growth for the contribution to the development of the economy of the Old City, improvement of conditions, and improvement of infrastructures, was handed to the director of the Scientific and Cultural Center under the Administration, Javid Kazimov, by Eastern Partnership Culture program coordinator Zviad Archuadze.
The presentation ceremony was also attended by Project Team Leader Peter Korsby, and the regional director of the communications department Julia Dzingalio.
Icherisheher, the pearl at the heart of Azerbaijan's cultural heritage, has a history of thousands of years and is located in the historic centre of ancient Baku. This unique historic ensemble has been called the Acropolis of Baku, Old City or Inner City. There are hundreds of historical-architectural structures in an area no bigger than 22.5 hectares, surrounded by the fortress walls. Four of them are of international and twenty-eight are of national significance.
In 2000, Icherisheher, together with Maiden Tower and the Shirvanshahs' complex, were added to the World Cultural Heritage list and are being preserved by UNESCO as a historical-architectural reserve.