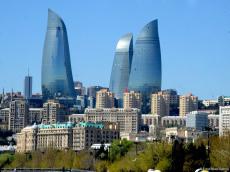 By Azernews
By Amina Nazarli
This summer, Azerbaijan will be brimmed with positive energy and cheerfulness as big hugs and left-handed Scout handshakes by more than 1,400 uniformed representatives of national Scout associations from more than 153 countries worldwide, will gather in the country.
The 2017 World Conference will meet in the capital city of Baku, while the World Scout Youth Forum will meet in Azerbaijan's picturesque region of Gabala.
Baku will, for the first time, host the World Scout Conference on August 14-18.
Intigam Babayev, Azerbaijan's Deputy Minister of Youth and Sports said that the event is the largest one in the sphere of youth policy.
"Azerbaijan will be the first country in the CIS and the Turkic world to host such an event," he said.
The World Scout Conference is the governing body, the "general assembly" of Scouting and is composed of all members of the World Organization, which is the word's largest youth organization with 40 million members.
Its function is to consider the policy and standards of the Scout Movement throughout the world, formulate the general policy of the World Organization and take the necessary action to further the goals of the Movement.
"I believe this is expression of interest to Azerbaijan among socially active youth of the world, and we also expect participation of Parliament representatives and government officials from various countries at the event," said Babayev.
The World Scout Youth Forum takes place in conjunction with the World Scout Conference. The Youth Forum scheduled for August 7-10 will take place before the conference and provide an opportunity for youth members of World Scouting to discuss different issues that face their NSOs from a youth perspective. 
The Forum in Baku will be the biggest and the most diverse World Scout Youth Forum ever with 325 people from more than 120 NSOs represented.
The Forum is an educational event to support the process of developing youth participation in partnership with adults and young members in the older age sections. It is an event that empowers and inspires young people through a participatory approach, helping them to develop skills in decision making which can be used within Scouting and in the wider society.