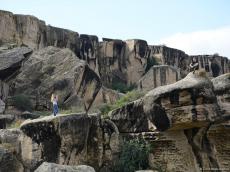 By Azernews
By Laman Ismayilova
The Gobustan State Historical-Artistic Reserve is a unique outdoor museum and is considered to be among the first seats of the human settlement with its burial mounds, ancient shelters, caves, rock paintings telling about the life of ancient man...
The reserve attracts not only local scientists, but also foreign archaeologists and tourist. The State Historical-Artistic Reserve was established in 1966 and has been functioning since 1967. In 2007, the reserve was included in the UNESCO list of World Cultural Heritage.
The museum consists of various exhibition halls, sections, equipped with interactive boards, touch screens, educational games, 3D videos, etc.
In the sections "Environment of Gobustan" and "Life of the ancient people", you can see stuffed animals, mannequins, depicting ancient people that seem very realistic.
Don't forget to visit the halls of the "Archaeological discovery in Gobustan", "Life of the people of the ancient period", "Time Travel", "Meaning of petroglyphs", "Animals and hunters", "Artists of the ancient period of Gobustan" . Here you can learn a lot about the meaning of Gobustan rock drawings, archaeological excavations. Also, visitors to the museum can take a virtual flight in 3D, from a height to look at the natural landscape of the Gobustan reserve.
After visit to museum, people personally want to see on the rocks our ancestors, animals, boats, and various symbolic signs, hunting scenes, rituals and dances.
Trend Life  presents new photos of the Gobustan State Historical-Artistic Reserve.