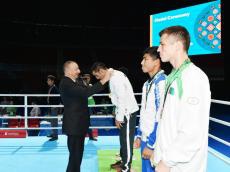 By Trend
President of Azerbaijan Ilham Aliyev has presented medals to winners of boxing competitions held as part of the 4th Islamic Solidarity Games in Baku.
Azerbaijani boxer Javid Chalabiyev won a gold medal in the 60 kg boxing finals at Baku 2017.
The Baku 2017 Islamic Solidarity Games started May 8 and will last until May 22 in Azerbaijan's capital.