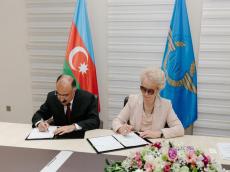 By Azernews
By Rashid Shirinov
Azerbaijan's State Civil Aviation Administration (SCAA) and Moscow-based Interstate Aviation Committee (IAC, executive body of the Interstate Council for Aviation and Use of Airspace) have signed an agreement on cooperation in the field of investigation and prevention of accidents, as well as a protocol on cooperation in the field of education, certification of aviation equipment and airfields.
The agreement was signed on May 10 by director of the SCAA Arif Mammadov and president of the Interstate Council and CEO of the IAC Tatyana Anodina.
The agreement will promote implementation of Annex 13 to the "Convention on International Civil Aviation" (Chicago Convention) and independence principle of the accident investigation body. This fully complies with the standards of the International Civil Aviation Organization (ICAO), of which Azerbaijan has been a member since 1992, Anodina noted.
The agreement will allow the use of the IAC's international experience and resources in an independent investigation of accidents. Anodina said that Azerbaijan actively cooperates with the Interstate Aviation Committee and the Interstate Council in various fields to ensure the safe and efficient operation of civil aviation.
Mammadov, in turn, stressed the importance of the signed documents.
"Our cooperation with the Interstate Council and Interstate Aviation Committee is based on many bilateral documents," he said.
In order to develop international relations, business ties and tourism, using the highly professional scientific and technical base of the National Academy of Civil Aviation of Azerbaijan and other educational centers, the sides agreed to develop a program for implementing the international vocational training system.
The State Civil Aviation Administration is a governmental agency within the Cabinet of Azerbaijan in charge of regulating activities in the sphere of civil aviation in the country.