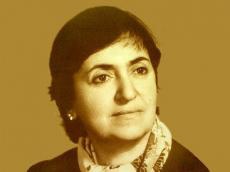 By Azernews
By Amina Nazarli
The National Center for Ophthalmology named after academician Zarifa Aliyeva held a scientific conference on "Actual problems of ophthalmology" on April 28 dedicated to the 94th anniversary of the outstanding Azerbaijani ophthalmologist, academician Zarifa Aliyeva.
Speaking at the conference, Head of the National Center Elmar Gasimov stressed that Zarifa Aliyeva's scientific activity is very rich and multifaceted.
Gasimov said that today's development of national ophthalmology is closely connected with the name of Zarifa Aliyeva. He especially noted the great merits of the outstanding ophthalmologist in the eradication of trachoma in Azerbaijan, which was widespread in the country during the period of the scientist's activity.
Gasimov added that about 200 scientific articles were published by Zarifa Aliyeva.
"Zarifa Aliyeva's activity is an example for modern ophthalmologists, and her memory will remain forever in our hearts," Gasimov said.
Deputy Director of the Center Hijran Namazova, speaking at the conference, informed about the scientific and pedagogical activity of Zarifa Aliyeva.

Namazova noted that due to the activities and merits of the outstanding scientist, the world recognized achievements of the Azerbaijani ophthalmology, which is closely associated with her name today.
"Zarifa Aliyeva was also an excellent teacher. Her legacy still lives today, being an example for ophthalmologists," Namazova said.
Zarifa Aliyeva, an honorary scientist of the Republic of Azerbaijan, doctor of medical sciences and academician of the Azerbaijan National Academy of Sciences, was born on April 28, 1923 in the village of Shahtakhty, Sharur region.
Aliyeva graduated from the Treatment and Prophylaxis Faculty of the Azerbaijan State Medical Institute in 1947. Then she acquired the major in ophthalmology in Moscow after successfully completing a two-year advanced training course at the All-Union Central Doctors Improvement Institute.
Zarifa Aliyeva graduated from post-graduate courses in the Institute in 1953. In 1977 she was granted the academic degree of a doctor of medical sciences.
Zarifa Aliyeva dedicated her research to treatment of trachoma, more exactly, to studying more effective means in curing, and aggravation of trachoma, use of synthomycin, an antibiotic that was new at the time, which had an antichlamydial activity except wide antibacterial spectrums. She is the author of a number of valuable research papers, 12 monographs, textbooks and manuals, about 150 scientific works, one invention and 12 rationalization proposals. Mrs. Aliyeva is also one of the authors of unique scientific works like 'Therapeutic ophthalmology' and 'Fundamentals of iridodiagnostics'.
In 1981, Aliyeva was awarded the highest prize in the field of ophthalmology - the Prize named after Academician M.I.Averbakh of the Academy of Medical Sciences of the USSR for her great contribution to the development of ophthalmology -- the researches she had conducted in the field of professional pathology of vision. Professor Zarifa Aliyeva was the first woman to have received that prize.
She was awarded orders and medals, and the title of Honorary Figure of Science of Azerbaijan.
Aliyeva passed away on April 15, 1985 in Moscow.