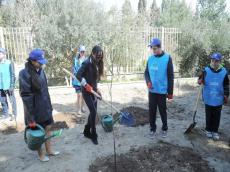 By Trend
Vice-president of the Heydar Aliyev Foundation, founder and head of IDEA (International Dialogue for Environmental Action) Public Union, FAO Goodwill Ambassador Leyla Aliyeva has launched the "School Gardens" project.
Launched at school No. 234 in Khazar District of Azerbaijan's capital Baku, the project is designed to improve the ecological situation in the country.
Leyla Aliyeva attended the first campaign under the project, which saw the planting of 100 trees in the yard of the school.
Fruit trees will be planted in yards of secondary schools in eight Azerbaijani districts – Goychay, Shamkir, Hajigabul, Guba, Masalli, Oghuz, Khazar and Zagatala – under the project co-organized by IDEA, FAO and the Ministry of Education.
The project will involve more than 40 schools, and around 5,000 trees will be planted.
Leyla Aliyeva also met with staff of the school, and viewed an exhibition of children's handiworks.