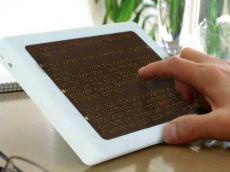 By Azernews
By Amina Nazrli
Manufacture of Braille Pad tablet for visually impaired individuals will be launched this autumn.
BrallieX Company Head Sayad Ibrahimov told Trend that only few examples of the tablet are available for now.
Braille Pad will allow visually impaired (blind) to get the information they need, access the internet, read e-books, join social networks and many more.
"Some changes will be made to boost functionality and design of the tablet," Ibrahimov said, adding that relevant work will be carried out after the receipt of additional funding.
The tablet will be equipped with multi-line tactile screens that allow users to fully utilize many functions by touch of fingertips.
Project Leader Rashid Aliyev previously said that $60,000 should be devoted for the completion of the technological component of the Braille Pad's display, and $1.5 million for mass production.
"Given the market volumes and the need for such devices, this amount may not seem so significant. According to the World Health Organization, there were 35 million people with limited vision in 2013, but in 2020 their number is expected to rise to 75 million," the project leader said.
He added that Braille Pad has the potential of bringing billions of dollars after its mass production launched.
The project is export-oriented and is already pre-ordered by Turkey. Some 50,000 Braille Pads are planned for export to this country, while Ukrainian and Saudi Arabian markets will be the next.