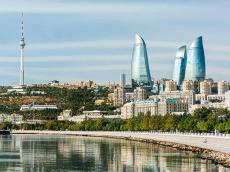 By Azernews
By Amina Nazarli
The climate of Azerbaijan can be described as dry and continental influenced climate with warm, dry summers and soft winters.
During the winter months the daily temperatures are close to zero, but in different parts of the country temperatures can vary markedly. The mountainous regions of Azerbaijan are known for severe weather conditions and extremely cold winters, with very strong winds and snowstorms.
However, this January the country is observing abnormally prolonged warm weather; the temperature of +1-6?C in the middle of winter is not typical for Azerbaijan.
Indeed, the country almost never experiences severe frosts and the monthly average temperature here in winter is 2-3 C.  While the neighboring countries are covered with snow, here thermometers show high temperatures.
Maharram Hasanov, a senior researcher at Climate and Agro-climatic Department of the Geography Institute of the ANAS said that, currently the air temperature in Azerbaijan exceeds the long-term average by 2-3 degrees.
This is connected with flow of air masses from the south into the country, Hasanov clarified.

The expert said that such weather condition in January is abnormal and is experienced extremely rare.
"We did not observe such weather conditions over the past 10-15 years. Last time the temperature was close to the climate norm back in 2010.  At the time the temperature differed from the climatic norm by 1 degree. This year, both in the regions and in Baku, the air temperature is higher than long-term average by 2-3 degrees," he said.
Hasanov further noted that in the mountain areas located at an altitude of 500-600 meters, the weather conditions correspond to the long-term norm.
Department Head Khayyam Rahimov earlier said that high temperatures are mainly observed in the foothills of the Greater and Lesser Caucasus Mountains.
He said that the average annual increase in temperature is 0.9-1.1 C and 1.0-1.4 C degrees respectively, adding that this information was estimated on the base of 1992-2014 climate norm data.
If compared to the base temperature period between 1961 and 1990, the temperature rose by 0.3-1.4 C depending on the region.
The head of the department noted that by the end of the 21st century the average annual temperature in different regions of the country expected to increase by 1.5-4.4 C (compared to base period).
Last year, the temperature in Azerbaijan was unusual, as summer started a bit later and autumn came earlier, creating questions whether the climate change has already reached the country.
Gulmali Suleymanov, the head of the Climate Change and Ozone Center at the Ecology and Natural Resources Ministry, then said that the changes occurring in 1, 3 or 5 years is hydrometeorological events and have noting close with the climate change, adding that climate change is determined and compared during 30 or more years.