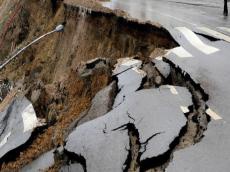 By Azernews
By Amina Nazarli
Monitoring of landslide zones in Azerbaijan, the territory of which is prone to landslides, in underway.
The head of the Group to Study of Exogenous Geological Processes and Geological Planning Expedition under the Ecology and Natural Resources Ministry, Sadiq Amiraslanov, said that the initial results of the monitoring revealed activation in the landslides zones across the country.
He said that the main reasons for the activation are meteorological factors.

"Currently we are conducting researches in landslide zones of Shamakhi region," he said, adding that in the end of the month they plan to prepare a large bulletin about the conditions of the risky landslide areas.
Recently, Deputy Director of the Geography Institute Elbrus Alizade said that increase in number of heavy rains triggers activation of potentially dangerous landslide areas of the country.
The deputy director said that due to a sharp fluctuation of temperature, freezing of rocks at night and the temperature raises the process activated.
Particularly dangerous landslide zone, according to him is observed in the south-eastern part of the Greater Caucasus.
Experts claim that the number of areas that are prone to landslides in Azerbaijan has increased by four times in the past 24 years. Many landslide zones exist in Lerik, Yardimli, on Shamakhi Road, and in the Absheron Peninsula.
Baku also has its landslide zones, including Masazir, Bail, Zikh, Hovsan, Yeni Gunashli, and Ahmadli. 
Scientists believe that people are behind 80 percent of the landslides by their agricultural activity which increases the risk of landslides.

Construction work on the slopes of Baku and the Absheron Peninsula, the use of a watering yard, the outpouring of groundwater on the surface, and other factors are the cause of these landslides, which have been a problem in the past as well.