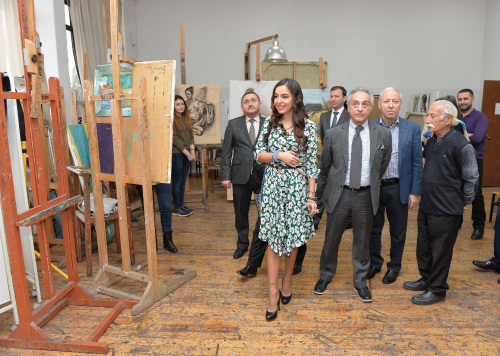 Vice-President of the Heydar Aliyev Foundation Leyla Aliyeva has visited Azerbaijan State Academy of Art.
She had a meeting with students of the academy, and was informed of its activities and education process.
Rector of the Academy, People's Artist Omar Eldarov said the academy prepares specialists in seven disciplines at bachelor`s and master`s level.
Leyla Aliyeva viewed works of students at the workshops. Accompanied by a group of students of Azerbaijan State Art Academy, Aliyeva also visited the Children's Clinic of National Oncology Center.
Visiting the children treated at the clinic, Leyla Aliyeva inquired about their health and the progress of their treatment. She congratulated the children on the occasion of the upcoming New Year and the World Azerbaijanis Solidarity Day.
Leyla Aliyeva and the students of the Art Academy also drew pictures on a variety of topics with the children.