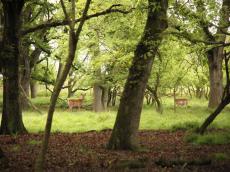 By Azernews
By Amina Nazarli
Azerbaijan, situated on the shore of the Caspian Sea, since the ancient times is especially popular in the world for its oil.
But along having huge energy recourses, Azerbaijan is also one of the centers of the very important natural beauties of the world.  With its self-characteristic natural areas, the country will soon have its Safari Park.
A safari-park is very much like a large zoo, where animals live in natural environment. Known as a wildlife park, is a zoo-like commercial drive-in tourist attraction where visitors can drive their own vehicles or ride in vehicles provided by the facility to observe freely roaming animals. 
The Safari Park will be created in Shamakhi region, located in the south-eastern foothills of the Greater Caucasus at an altitude of 800 meters above sea level.
The issue is reflected in the "Strategic Road Map for the development of specialized tourism industry in Azerbaijan".  With the participation of relevant structures, necessary measures will be taken in connection with the creation of the Safari Park, and in the future they will popularize the Park through online platforms and other means.
Authorities said that, first of all, the owners of rural houses and tourists will take advantage of the project. However, the project will also bring benefits to a wider audience, including other villagers, who will provide a variety of services to tourists.
The project also will contribute to the improvement of rural infrastructure, creation of permanent jobs for the rural population, which in turn will positively affect the welfare of the villages, and formation of business skills.
The history of Shamakhi, which is replete with shady forests and green meadows, dates back to the 5th century BC.
The city has a rich heritage, providing the backdrop to major political events throughout much of its two millennia of existence. For centuries, Shamakhi was one of Azerbaijan's most prominent cities, an important cultural and trading centre and the royal seat of the Shirvanshahs (9th to 18th centuries). Furthermore, it is known as the root of Azerbaijani literature.
Exceptional and flamboyant nature and mild climate adorn the city and its suburbs, having all the conditions for skiing in winter and horseback riding in summer.
More than 50 kinds of medicinal herbs are growing here. The rich nature of forests creates favorable conditions for the habitat of different animals and birds here, for example, roe deer, wild boars, bears, and wild cats.
Shamakhi is interesting not only for its rich nature, but also ancient history. Despite the numerous earthquakes in the region, Shamakhi still preserved many historical monuments.
The largest astrophysical observatory in Azerbaijan and the whole Caucasus is also located in Pirkuli, Shamakhi. The observatory named after famous Azerbaijani architect, astronomer, mathematician and philosopher Nasreddin Tusi is equipped with modern facilities and one of the largest in the CIS telescope with a mirror diameter of 2 meters.