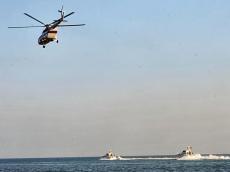 The body of one of oilmen who went missing as a result of an accident in the Caspian Sea was retrieved at about 14:00 (UTC/GMT+4), Balamirza Agharahimov, chief engineer of Azneft Production Union, told reporters at a briefing in Baku December 15.
Agharahimov said that the body of Ilham Gafarov has been retrieved.
The search continues, yet Agharahimov said that the harsh weather conditions greatly hampered the search.
Vessels of Ministry of Emergency Situations, Border Guard, Azerbaijan Caspian Shipping Company and private companies, as well as helicopters of the Emergency Situations Ministry are at the event site, said Agharahimov.
Earlier, Azerbaijan's state oil company SOCAR said in a message that an accident took place at about 05:00 (UTC/GMT+4), on Dec. 15, due to strong wind, which blew away a part of a flyover of a 150-meter long oil-gathering station. A board attached to the flyover and a booth on it were also blown away.
According to preliminary reports, five people, who were on duty at the gathering station, and five people, who were in the booth, are missing.
Vessels of the Ministry of Emergency Situations and Azerbaijan Caspian Shipping CJSC are at the site.
The message also said that leadership of SOCAR, Ministry of Emergency Situations and Azneft are at the site. A special group has been created to investigate the accident.