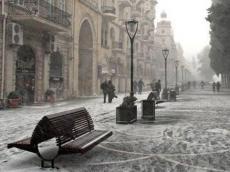 By Azernews
By Laman Ismayilova
What a lovely surprise residents and guests of Baku got this morning, waking up and finding the whole city coated in snow.
The snowfall started Thursday night and we should be seeing 0-5 centimeters of snow. Blizzard is expected at night.
The temperature is expected 1-3 degrees of frost  at night, -1+2?C in the afternoon in Absheron peninsula, 1-3 degrees of  frost at night, near zero degree in the afternoon in Baku, the Ministry of Ecology and Natural Resources reported.
Air pressure records 767. Relative humidity will be 85-95%.
The intermittent rain, sleet and snow will intensify in the country's regions.
It will be foggy in some places. West wind will blow and intensify off in some places.
The temperature will be 0-5 degrees of frost at night and 0-5 ?C in the daytime, 5-10 degrees of frost in mountainous areas, 0-5 degrees of frost in the daytime.