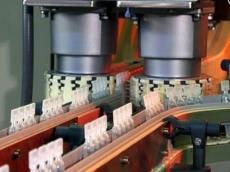 By Azernews
By Gulgiz Muradova
Azerbaijan's pharmaceutical industry is taking a shape as plants on medicine production will appear in the country in the near future.
Economy Minister Shahin Mustafayev said that four new pharma plants will operate in the country by 2018, recalling that construction of the first plant has already been launched.
 "This month, we will also lay the foundation of a joint pharmaceutical plant with Iran. Moreover, we are now considering other two similar projects," he noted.
The Russian private hi-tech pharmaceutical company R-Pharm, Azerbaijan Investment Company and Vita-A LLC (Azerbaijan) signed a deal on the creation of Hayat Pharm Joint Venture on November 2 in Baku, thus founding the country's first pharmacy plant.
The Azerbaijani-Russian joint pharmaceutical plant will be built in the Pirallahi Industrial Park. It is planned to invest some $74 million into the project, which enable Azerbaijan to manufacture high-quality medicines within two years.
The project envisages creation of a large logistics centre, covering an area of some 5,000 cubic meters in 2016-2018. The formation of the industrial complex, which is to consist of two stages, namely, the establishment of an enterprise for packing the official medicines and production of medications (tablets, capsules and pharmaceutical substances) will be realized in 2017-2020. A quality control laboratory will be established in the country in 2016-2020.
Hayat Pharm's share in the Azerbaijani pharmaceutical market is expected to be 6 percent by 2025. The local production will account for $70 million or 0.15 percent of GDP by 2025. 
This will allow saving budgetary funds worth $53.6 million thanks to import substitution in medications.
The joint pharmaceutical plant with Iran will also be built in Pirallahi. The enterprise is designed to manufacture dozens of essential drugs for the treatment of heart diseases, contagious diseases, non-communicable diseases, as well as various types of antibiotics and painkillers.
The necessary medicines will be imported from Iran to Azerbaijan within the first stage, while Iran will provide all necessary technology for the production of drugs in the second stage of the project, production of medicines will be launched at the third stage.
Moreover, Egypt, Pakistan, Turkey and some European countries seek to take advantage and enter the pharmaceutical sector of Azerbaijan.
In late 2015, the government announced that Azerbaijan will create own enterprises that will manufacture medicines to cease dependence on imports. Today, the local market of medicines is heavily dependent on imports, while 57 percent of medicines registered in the country are produced in Europe, 26 percent in the CIS countries, including 12 percent made in Russia. The small proportion is produced in Asian countries.