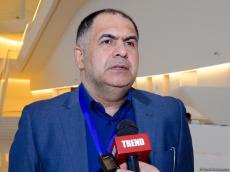 By  Trend
Holding of the 5th News Agencies World Congress helps representatives of the media outlets to better know one another, the Islamic Republic News Agency (IRNA) Managing Director Mohammad Khodadi told Trend Nov. 18.
He said that news agencies should cooperate in order to use the opportunities to confront the challenges they face.
"Future is uncertain for everyone, it is necessary to develop," he noted, adding that news agencies will be able to better know one another, find new arenas for cooperation and choose further ways for development of the media thanks to the congress in Baku.
Khodadi said that nowadays media have plenty of opportunities, but are also faced by a lot of challenges.
He added that every person on the planet, who has a smartphone, can become a partner of news agencies.
"In the past, the media had restrictions related to place and time, however, nowadays news agencies can do their work anywhere and at any time," Khodadi said.
"Regarding the challenges, it should be noted that the level of journalism is gradually decreasing. Finding a source of information is not a problem for many people, they share and present any information as news," he said.
"The level of journalism should be increased. It is also necessary to enhance qualification of journalists," he said, adding that news agencies are often faced by lack of qualification.
IRNA managing director also thanked Azerbaijan for providing an opportunity to discuss all those issues.
Azerbaijan is hosting the 5th News Agencies World Congress, the 16th General Assembly of the Organization of Asia-Pacific News Agencies (OANA) and the 22nd Session of the Council of CIS Heads of News Agencies.
Azerbaijan is represented in the events by Trend and AzerTAc news agencies.
Co-organized by the Heydar Aliyev Foundation and Azerbaijan's state news agency AzerTAc, these events bring together heads and officials of about 100 news agencies, international media experts, and officials from UNESCO and regional media organizations.
Speakers in the sessions include presidents of the News Agencies World Congress, OANA, EANA, FANA, managers of Associated Press, Reuters, Xinhua, Anadolu Agency, TASS, Agence France-Press, Press Association, EFE, Yonhap, Kyodo News, TT, SPA, BTA, AAP, IRNA, DPA, Notimex, ATPE and other leading news agencies, Los Angeles Times newspaper, Al Arabiya TV channel, and experts from Tripod Advisors, News Corp, PwC, Axel Springer and Stibo Accelerator media companies.
Initiated by the Russian news agency TASS, the 1st News Agencies World Congress was held in Moscow on Sept. 24-25, 2004.