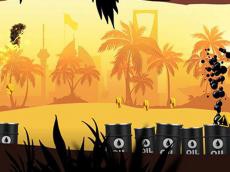 By Azernews
By Amina Nazarli
Have you ever wanted to influence the global economy and control the price of "black gold"?  If yes, then don't miss a chance to play "Joumee: Gold of Azerbaijan", where every step you take makes oil barrel price go higher globally!
Making a way through the oil fields in suburban areas of Baku, the marvelous capital of energy-rich Azerbaijan, gamers now can increase the price of Azerbaijani oil. The game also offers a chance to see Baku's oil wells and the city view. 
The game is available for Android and IOS operating systems. The game also has "Joumee: Gold of Saudi" version. 
Oil has long become a symbol of Azerbaijan, where many songs, books and art works were devoted to "black-gold".
Azerbaijan is the oldest known oil producing region in the world. The country experienced an oil boom at the beginning of the 20th century and later served as a major refining centre in the former Soviet Union. 
The oil wells drilled in 1846 at Bibiheybat, Baku were the first mechanically-drilled oil wells in the world and represented an important technical innovation. It is worth pointing out that the USA, the world's first oil producer, started using this mechanical-drilling method 13 years after Baku.
Azerbaijan took the first place in the production and processing of oil in 1899 and accounted for 50 percent of the global oil production.
The country accounted for 75 percent of oil produced in the Soviet Union during the Second World War thus providing the front with the fuel made a great contribution to the victory over fascism.
The fountain struck on the Neft Dashlari (Oil Rocks) considered the rare field 100 km away from Baku in 1949 opened a new stage in the production of offshore oil. Azerbaijan started to produce oil in the offshore fields at that time.