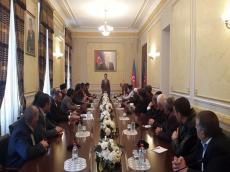 By Azernews
By Gunay Hasanova
The State Committee for Work with Religious Organizations has presented licenses to some 27 religious communities registered in the country on November 15.
The event was attended by Deputy Chairman of the Committee Gunduz Ismayilov, heads of departments and chairmen of registered religious communities, the committee reported.
Ismayilov, addressing the event, urged the communities to be more active in presenting of the Islam and national spiritual values to the public.
He further stressed that the communities are responsible for organization of events on religious education, and fight against religious radicalism. He particularly stressed the importance of joint work with akhunds and imams, representatives of the Caucasus Muslims Office and other government agencies in this regard.
The constantly growing number of religious communities (the figure currently nears 700), belonging to different faiths, is considered to be the result of activities, carried out for preservation and strengthening of religious tolerance in the country.
All religious organizations operating in the territory of the country should be registered with the Committee and obtain legal status, according to the legislation. The committee doesn't register sects, religious confessions or movements.
Azerbaijan, which supports all communities existing in the country, regardless their religious belief, has never experienced intolerance at confessional level. Despite the fact that some 98 percent of the Azerbaijani population is Muslim, the country has never had any religious conflicts.
Representatives of every nation, religion, the ethnic group in the country have equal rights. Religious freedom and support in Azerbaijan are fully provided by the government.
The national policy of Azerbaijan is defined on the principles of tolerance and coexistence of various nationalities, ethnic groups, and religious minorities.  
Currently, there are 1,834 mosques, 12 churches and 6 synagogues functioning in the country. And the government has created all conditions for religious worship in Azerbaijan.