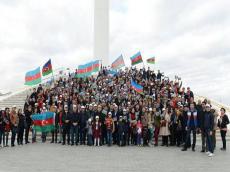 By Azernews
By Laman Ismayilova
"Flag march" will be held in Baku on November 9 on the occasion of Azerbaijan's State Flag Day.
The route of "Flag march" will start from Baku Boulevard and end at the National Flag Square. The event starts at 11:00.
The representatives of the Education Ministry, NGOs, public figures,  MPs, as well as teachers and students will attend  the march.
The State Flag Day is celebrated in Azerbaijan on November 9.
The sacred flag, waving above Azerbaijan was firstly raised on November 9, 1918, as the national flag of the Azerbaijan Democratic Republic (ADR).
After regaining of Azerbaijan's independence in 1991, the flag was approved as the official flag of Azerbaijan on February 5.
In accordance with the presidential decree dated November 17, 2009, November 9 announced as the National Flag Day in memory of the ADR.
The state flag of Azerbaijan represents a rectangular panel consisting of three equal horizontal bands colored blue, red, and green, with a white crescent and an eight-pointed star are centered in the red band. The ratio of the flag's width to its length is 1:2.
The first blue stripe stands for the Turkic origin of Azerbaijani people and its Turkic heritage and is connected with the idea of Turkism. The middle red stripe means building a modern society, developing a democratic and modernized country. The third green stripe expresses affiliation to the Islamic civilization and the Islamic religion.