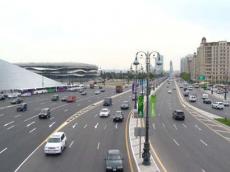 By Azernews
By Rashid Shirinov
Road reconstruction season is still underway in Azerbaijan, while a total of 542.7 kilometers of roads were built, repaired and reconstructed throughout the country's territory in January-September 2016.
Azeravtoyol Company, engaged in construction and upgrade of the road infrastructure in Azerbaijan, announced about it in its report for January-September 2016.
The works on road improvement also included construction of 12 new road bridges and repair of five bridges. Moreover, two pedestrian crossings were built and repaired during this period.
More than 30 roads, avenues and streets with a total length of 63.2 kilometers were reconstructed and repaired in Baku.
All these works were carried out in accordance with the State Programs on Socio-Economic Development of regions of Azerbaijan for 2014-2018 and of Baku City and Its Settlements in 2014-2016, approved by President Ilham Aliyev. Since early 2016 until late-September, the president has personally attended inauguration of 14 roads.
Azeravtoyol reported that there are also a lot of ongoing road projects in Azerbaijan. Currently, the work is underway on the expansion of the Baku-Shamakhi automobile road to four traffic lanes.  Another big project is the construction of four bridges in the Ganja region of Azerbaijan, which is completed by almost half.
The road infrastructure is utterly important for the functioning of the economy and wellbeing of population. The development of road infrastructure is important not only for local use, but also for regional cooperation – the roads are used for international cargo transportation.
Therefore, the Azerbaijani government attaches great significance to this issue – millions of manats are being allocated annually for construction and reconstruction of the roads in the country.