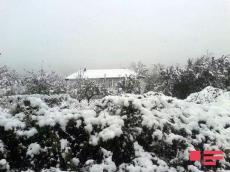 By Azernews
By Laman Ismayilova
Snow fell in Azerbaijan's regions on October 17, while the thickness of the snow cover ranged between 8-65 cm.
The snow thickness in Ismayilli was 15 cm, in Khinalig - 65 cm, Griz - 45 cm, Laza - 25 cm, Altiagaj - 14 cm, Nohurduzune - 24 cma and Gonagkend - 20 cm.
Rainy and unstable weather is expected to continue on October 19, the Ministry of Ecology and Natural Resources reported.
The intermittent rain is expected in Baku and Absheron peninsula. North-east wind will waft.
The temperature is expected +7-9 C at night, +10-13?C the afternoon in Absheron peninsula, and +7-9 C at night, +11-13C in the afternoon Baku. Air pressure records 770. Relative humidity will be around 85-95%.
Sleet and snow is predicted in mountainous areas and highlands. East wind will waft. The temperature will be +4-9 C at night, +10-15 C in the daytime, 0-5 degrees of frost  in mountainous areas, +4-9 C in the daytime, 10-15 degrees of frost in highlands, -3+2  C in daytime.
Until October 21, weak and mild hesitation of meteorological factors in Absheron peninsula will be favorable for weather sensitive people, while advantage of humid weather and lower temperature can create a sense of anxiety in some people.