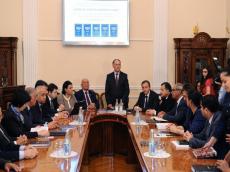 By Azernews
By Laman Ismayilova
A two-volume book "History of the Republic of Azerbaijan" was presented in Baku on October 13.
The book was published by the History Institute of Azerbaijan National Academy of Sciences (ANAS) on the occasion of the 25th anniversary of Azerbaijan's independence
Chapters on the foreign policy of independent Azerbaijan in both volumes of the book were written by the Azerbaijani president's aide for public and political affairs, Professor Ali Hasanov. 
Director of the Presidential Library Mayil Ahmadov, addressing the event, provided an insight into the book.
He described the publication of the book as a "contribution to the celebrations of the 25th anniversary of the restoration of Azerbaijan`s independence."
Arastun Mehdiyev, deputy head of the department for public and political issues at the Presidential Administration, said that the two-volume book is a significant contribution and a valuable gift to the 25th anniversary of Azerbaijan's independence.
He pointed out that the 25th anniversary of Azerbaijan's independence will be celebrated at state level.  
"An Action Plan has been approved in this regard under the order of President Ilham Aliyev. Accordingly, a series of events will be held on the occasion of the 25th anniversary of the country's independence", he added.
Director of the ANAS Institute of History, MP Yagub Mahmudov, in turn, said that the book written by a team of researchers is the first initiative in academic study of the history of Azerbaijan's independence.
"The first volume of the book covers 1991-2003 – the period of Heydar Aliyev's leadership, and the second volume covers historic achievements gained under the leadership of President Ilham Aliyev in 2003-2016," he said.
Azerbaijan celebrates Independence Day on October 18. After the adoption of the Constitutional Act, Azerbaijan gained the long-awaited independence, having surmounted many challenges.
Azerbaijan Democratic Republic, the first secular democratic state in the Islamic world, which was established in 1918, existed for only 23 months.
The second time such a situation emerged more than 70 years thereafter. The collapse of the Soviet Union provided Azerbaijan with an opportunity to restore the lost independence.
At the end of the 20th century Azerbaijani people raised the banner of independence thanks to a historic chance associated with the fall of the USSR and the opportunities provided by destiny. It was the second brilliant triumph in the political history of the Azerbaijani people during the last century.