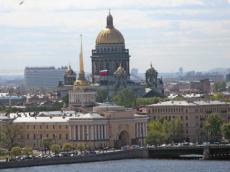 By Azernews
By Rashid Shirinov
Commissioned by the Foreign Ministry of Azerbaijan, the country's Embassy in Russia and Consulate General in St. Petersburg secured the participation of Azerbaijan's representatives in the State Hermitage of Russia at the conference on the subject of Oriental Numismatics. They will prevent another provocation of Armenia towards Azerbaijani history.
Head of the Department of Science Foundation on Numismatics and Epigraphy of the Museum of Azerbaijan History Professor Ali Rajabli, senior researcher of the Institute of Human Rights of Azerbaijan National Academy of Sciences (ANAS) Rizvan Huseynov and Ph.D Anar Sadikhov will participate at the conference on September 26-29, the Embassy told Trend.
Rajabli will speak at the conference on the topic of "Coins in the Azerbaijani khanates in 17-19th centuries."
Azerbaijani scientists intend to prevent another provocation of Armenians, who plan to introduce the objects of Azerbaijan's cultural heritage as Armenian. In particular, they are going to present the coins of Azerbaijani khanates as Eastern-Armenian, according to Armenian media.
"Azerbaijan is informed about this attempt of Armenians to present the Azerbaijani cultural heritage items as Armenian. Azerbaijan's Embassy to Russia and the country's Consulate General in St. Petersburg are taking measures to prevent this provocation," spokesman for Azerbaijan's Foreign Ministry Hikmet Hajiyev said earlier.
The conflict between the two South Caucasus countries began in 1988 when Armenia made territorial claims against Azerbaijan. As a result of the ensuing war, in 1992 Armenian armed forces occupied 20 percent of Azerbaijan, including the Nagorno-Karabakh region and seven surrounding districts. More than 20,000 Azerbaijanis were killed and over 1 million were displaced as a result of the large-scale hostilities. The 1994 ceasefire agreement was followed by peace negotiations.
Armenia still controls fifth part of Azerbaijan's territory and rejects implementing four UN Security Council resolutions on withdrawal of its armed forces from the Nagorno-Karabakh and surrounding districts.