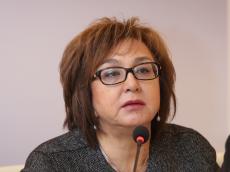 By Laman Ismayilova
Charges may be applicable for entrance examinations in Azerbaijan, said Maleyka Abbaszade, the chair of the board of the directors of the National Examinations Center.
"We are talking about the various entrance exams that students pass. They must be paid exams," she said noting that so far the state was paying for the costs of holding exams, including a variety of professional exams and exams for admission to the civil service.
"The fee for the exam was paid by the state. Now everyone will pay for himself," said Abbaszade.
The innovation does not affect those, who are passing exams this year. They will only have to pay a state fee in the amount of 2 manats ($1.2). 
Speaking about the tariffs and costs of the exams, Abbaszade said appropriate certificates and documents will be presented to the Tariff Council.
"In some types of exams the cost for each person is 25 manats ($16). But there are examinations on which these costs are higher.  Mainly, these are exams with a small number of participants. There are certain works that are commissioned and financed by the government. And there are also services that we provide to the citizens on our own, including e-services. Some of these services have to be paid," she added.
Abbaszade did not exclude that still part of these cost will be still paid by government.