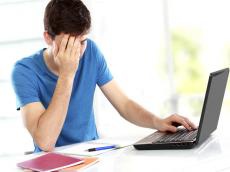 By Amina Nazarli
Much worries have appeared around the world wide web -- the amazing phenomenon of the 20th century, which could to enter our life by fast speed. We live with it, we live within it and we cannot live without it.
Internet is unbelievably strong to manage our daily routine, but what should we apprehend along with tremendous benefits of this constituent?
The world wide web has so firmly entered our life and many would agree that we regard it as a lovely cup of coffee for breakfast even. But taking into account availability of this easy-life tool for all, in particular for children, one would think about its pros and cons.
As statistics show, little users of the internet are more active than adults. Given the ability of children faster absorb and understand any updates, it becomes clear that they feel more free in the Internet.
It's enough to say that WWW could replace live communication between classmates by chatting in social networks. But this is not the end. Easy access to virtual world made them feel free in using it, not thinking of any limitations or bans. So, along with its benefits, internet may be very harmful and even dangerous for the fragile child's psyche resources.
And that is the major concern of parents. For instance, the last statistics of the Kaspersky Internet Security service showed that more than 13.8 percent of teenager users of the Internet in Azerbaijan faced with sites that use obscene language, promotes gambling, weapons and violence. The statistical data was obtained from computers that are running the module of "parental control", cloud service of the Kaspersky Internet Security.
The number of Internet users in Azerbaijan with a population of over 9.6 million people reached 76 percent as of early 2016, according to the Communications and High Technologies Ministry.
Today, Azerbaijani child starts his/her acquaintance with high technology and the Internet from early infancy. Adults should realize both physiological and psychological danger of the Internet and all the means to access it.
Indeed, the network may contain something, that is absolutely not intended for children's eyes. For the past 12 months about 73.65 percent of Azerbaijani teenagers used Internet for communication.
Some 6.66 percent used the Internet for online gaming, while 5.83 percent experienced resources, which provides information about alcohol, tobacco and psychotropic products.
Parents' lack of internet skills and knowledge can actually harm children. However, experts believe, banning the use of the Internet or a computer will not resolve the problem.
Several years ago, when not every family has a computer, Internet clubs were very popular. And now, despite the general computerization, these clubs are still rarely empty.
Basically, their visitors are teenagers who are ready to spend more than one hour there, spending all their pocket money. Here no one is breathing down their neck and do not control which sites they search, that's why many teens willingly visit these places.
Psychiatrist Fuad Ismayilov said that the theme of the social networks influence on adolescents is very relevant today, when they are increasingly using the Internet in their life.

"Now more and more teenagers spend their free time on social networks. However, they should not forget about the golden mean -- everything should be in moderation. Many people incorrectly use their time on the Internet. At the same time, they become dependent on social networks. However, often the Internet leads to big problems," he believes.
Ismayilov advises parents to communicate more with their children, and allow them to use the Internet only when necessary.
"Parents need to be sure which sites their children visit. They need to be engaged in education of their child, because by sitting behind the screen for days may be more and more difficult to get rid of this dependence," he said.
Earlier, the Electronic Security Center, under the Communications and High Technologies Ministry prepared a proposal to protect children and adolescents from the negative effects of the Internet, proposing the application of "Parental Control" which prevents children from accessing inappropriate content.