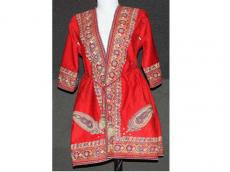 By Laman Ismayilova
The National Museum of History has expanded its colorful collection with chukha, a sample of national male humeral outerwear, Trend Life reported.
Chukha , which is detachable on the waist, was sewn of red cloth. Its collar, sleeves and hem are decorated with "tekelduz", embroidery that was widespread in Sheki in the Middle Ages and still popular.
The Hijri calendar 1275 and words "Mashallah, Mubarak Bahat" is depicted on the red chukha. Related to the mid-nineteenth century, chukha bears great historical and cultural importance.
The national costumes were basically the same in all historical ethnographic zones of Azerbaijan.
The double breast "Arkhaliq", the humeral outerwear "Gaba" and "Chukha" were the noteworthy male dresses of Azerbaijan.
Men's costume always represented the class affiliation of its owner. The prominent fabrics used in the traditional dress for men in Azerbaijan were silk, cashmere and satins.
Papaq was the most popular headdress for men which was usually stitched with lamb fur and it was a symbol of dignity and prestige.
Men never took off their papaqs or hats and, in general, it was considered shameful to go out without a hat. That's why if someone wanted to offend somebody, he tried to knock his hat off his head.
The most popular headgear worn both by men and women -- arahchin made from silk fabric and decorated with gold embroideries -- well-known today for many thanks to souvenir shops across the country, was a typical traditional headgear of Azerbaijanis, widespread in the Middle Ages.
Women's dress of the 19th century and the beginning of the 20th century consisted of lower and top dresses. The top wear consisted of top shoulder and belt wears. Women's top shoulder dress is top shirtdress, back dress and chapkan, a dress consisting of lining and false sleeves.
In the cities, women wore a veil over skirt when going outside.
The most remarkable element of Azerbaijanis costume is its underwear. It (both female and male) sewn from linen and cotton. The rich families' beautiful underwear is sewn from silk.
During the recent archeological excavations, some needle and spoke, made ??of bronze, from the early Bronze Age were found in Azerbaijan. These findings prove that the ancient population of Azerbaijan could sew clothes.