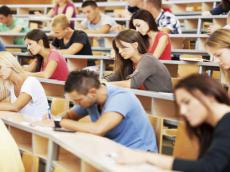 By Amina Nazarli
The newly established French-Azerbaijani University, aiming to turn Azerbaijan into a regional university center, has announced student admission for the 2016/17 academic year. 

The French-Azerbaijan University (UFAZ) is a project implemented on the initiative of the Azerbaijani and French presidents.

In 2016/2017 academic year, the Azerbaijan State University of Oil and Industry (ASOIU) will start teaching in four specialties including Chemical Engineering, Computer Science, Geophysical Engineering and Development and exploitation of oil.
The university established in cooperation with the University of Strasbourg on the program of the first three majors, and with the University of Rennes 1 on the latest specialty.
University graduates will be issued a double diploma -- University of Strasbourg and ASOIU (the first three specialties) and the University of Renn1 and ASOIU (the last specialty).
The duration of the education is four years (one year of training + three years of basic study), which will be conducted in English. Training is planned to be fully conducted in the ASOIU in Baku.
Students, showing good results during the semester will have a chance to go to the summer schools in France.
This year, 120 received in UFAZ (with best results) are exempt from paying tuition fees. Some 40 places will be offered on a fee basis.
Entrants who scored 500 points or more on the entrance exams to the first group can participate in the qualifying examinations. The qualifying exam for UFAZ is scheduled for July 25.

Entrance examinations will be held in the following disciplines in Azerbaijani and Russian languages: physics (tests), chemistry (tests), mathematics (tests) and English (the essay).
Classes for students will be first in English, then in French, which means that University graduates can be provided with jobs in Azerbaijani, English and French companies.