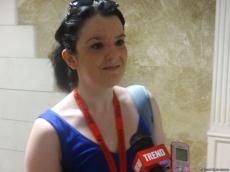 Many foreign tourists who arrived in Baku for the first time, to see the Formula 1 Grand Prix of Europe, are amazed by the Azerbaijani capital.
One of them is Francesca, a tourist from Scotland, who is on her first visit here.
Baku is a big city with beautiful roads, buildings, crossings and we are delighted with it, she told Trend.
She also expressed her admiration for the architecture, ancient and modern buildings in the city.
As many other tourists, Francesca said she also liked Azerbaijani cuisine, kebabs and sweets.
The last day of Formula 1 Grand Prix of Europe has kicked off in Baku.
Azerbaijan is hosting the Formula 1 Grand Prix of Europe for the first time. The event started on June 17 and will end today on June 19.
Overall, 11 teams, two drivers in each, will compete in the race. The specially constructed street circuit will see F1 cars race around the stunning downtown area of Baku, incorporating its UNESCO-protected old city – Icheri Sheher historical-architectural reserve – as well as its modern skyline and beautiful Caspian Sea promenade.