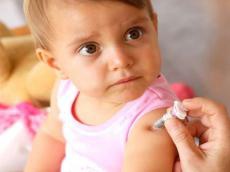 By Amina Nazarli
Fighting diseases was a challenge of mankind since the ancient times, but the most remarkable results in this regards have been achieved thanks to development of medical science.
Azerbaijani doctors could make a breakthrough in this regard, fully eliminating rubella and measles, mostly observed among children, in the country.
Azerbaijan was ranked 10th among the 53 European countries for the prevention of the spread of measles and rubella, according to the WHO Regional Office for Europe.
WHO experts have come to this conclusion after examining the situation in the country in this sphere for the past few years.
Rubella and measles also called "childhood infection" is highly contagious infections, that can be very unpleasant and sometimes lead to serious complications.
Measles starts with fever, runny nose, cough, red eyes, and sore throat. It's followed by a rash that spreads over the body. Measles virus is highly contagious virus and spreads through the air through coughing and sneezing. Despite being considered primarily a childhood illness, measles can affect people of all ages.
Fortunately doctor say that these two diseases have not threatened Azerbaijan for several years.
Currently, three regions of Europe target to eliminate rubella and measles. Throughout Europe some 21 countries achieved the elimination of measles and 20 states succeeded in preventing rubella this year.
Infectious Disease Specialist at the WHO Azerbaijan Office Javahir Suleymanova said that Azerbaijan succeeded to eradicate both diseases.
Indeed, this is an important success for the national health system, since compared to 20 countries, where only one of these diseases have been eliminated. Azerbaijan has managed to achieve the elimination of both, thanks to the timely vaccination.
In 2002-2005, the country experienced the outbreak of measles and rubella diseases, involving more than 10,000 people. More than 50 percent of affected were people above 15 years old. Later, Azerbaijan held the campaigns for mass immunization of the population.
Cases of rubella have no longer revealed in the country since 2008, thanks to the measures taken by the Health Ministry, in particular, a large campaign carried out in 2006 and aimed at combating these diseases, which covered people aged from 7 to 35 years.
However, these diseases still remain endemic in 18 European countries.
"These are countries neighboring Azerbaijan. Moreover, Russia, Georgia, Iran and Armenia are among the carriers of the virus. That means that the disease can appear in the country again. That's why vaccination will continue," Suleymanova said.
Earlier, Health Ministry's chief pediatrician Nasib Guliyev said that the last outbreak of measles and rubella in the country was reported in 2008. "After the vaccination campaigns among the population, measles and rubella disappeared in the country," he said.
Despite some parents believe that the vaccine can harm their children's health, Guliyev noted that immunization is very important.
"The fact is that, the vaccine has virtually no side effects. Side reaction can happen in one of a million vaccinated children. But the benefits of vaccination are clear when you consider that measles mortality reaches up to 8 percent.

In case an adult was not vaccinated at the time, he/she is likely to be ill in future, but note of that in adulthood this disease carries much heavier than in childhood.
Measles remains one of the leading causes of death among young children globally, despite the availability of a safe and effective vaccine. Approximately 114,900 people died from measles in 2014 – mostly children under the age of 5.
The disease is a highly contagious, serious disease caused by a virus. In 1980, before widespread vaccination, measles caused an estimated 2.6 million deaths each year.