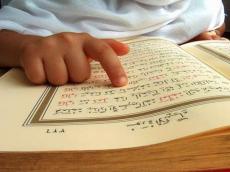 By Amina Nazarli
Muslim-majority Azerbaijan is gearing up for the holy month of Ramadan which starts at midnight tonight.
Ramadan or as it is also called "The Sultan of Eleven Months" is an incredibly sacred time for Muslims, who believe that during this month the holy book Koran was revealed to Prophet Muhammad.
Ramadan comes at a different time every year because it is the ninth month of the Islamic calendar, a date-keeping system based on lunar cycles, unlike the Gregorian. The date also changes from one country to another one (with one day difference) because the moon can't be seen in some countries if it's cloudy.
Ramadan teaches the faithful to love Allah, and of huge importance across the Islamic world to test their will and patience, and to be wiser and more honest.
The history of fasting in Ramadan starts when the Prophet Muhammad determined the holy month in Medina during the second year of pilgrimage.
Fasting is one of the Five Pillars of the Islamic religion and one of its main practices. The resulting hunger is seen as a means of developing sympathy for the less fortunate, while learning to be humble and appreciate all of God's bounties.
Muslims worldwide fast in the daylight hours during Ramadan. For 30 days, during fasting hours from the dawn until the sunset they do not eat, drink, smoke, or engage in sexual intercourse, testing their patience and ability to overcome temptations.
In Islam, fasting is obligatory for all the faithful with the exception of minors, the elderly and ill, mentally ill, pregnant women and nursing mothers, travelers, and soldiers.
The holy Koran says, "As morning comes and white thread distinguishes from black thread, you may eat and drink and then complete your fast till the night."
It is desirable to break fast with pure water, milk, or something sweet as the Prophet Muhammad had done.
It is better to invite those who have fasted to your iftar table, according to the hadith. It says that the one who feeds a person who fasted will receive the same reward as the one who fasted.
The month is intended to improve morality and character, so there are more regular mosque visits alongside a personal attempt to work on positive traits and thoughts.
Fasting is completed with holiday of 'Eid al-Fitr.' On this day, it is required that all wealthy Muslims aid the less fortunate.
Muslims celebrate the end of Ramadan with a few days holiday called Eid al-Fitr, during which Muslims giving thanks to Allah for the strength to practice self-restraint over the month.