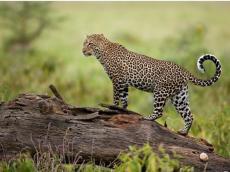 By Rashid Shirinov

The second edition of the Red Book of Azerbaijan has been released, Huseyngulu Bagirov, Minister for Ecology and Natural Resources said in an interview to the website of New Azerbaijan Party. The book is scheduled for release every ten years.
Overall, the first edition of the Red Book of Azerbaijan was published in 1989 and included 140 plant species. The newer edition consists of 300 species, including 14 species of mushrooms, 20 simple and 266 higher plants. The number of fauna species in the first edition of the book made up to 108 representatives.
Bagirov mentioned that the work on the protection of wildlife is being implemented constantly. In the framework of the project, realized with the support of the Heydar Aliyev Foundation, about 150 gazelles were resettled in their historical habitats. "Moreover, on the basis of information about rare and endangered species of plants and animals in the country, collected by scientists and specialists, the second edition of the Red Book of Azerbaijan was published in two volumes," he said.
The new edition was prepared with funds of the Ministry of Ecology and Natural Resources of Azerbaijan, received from the applied fines, as well as at the expense of some international organizations.
The second volume includes about 223 representatives of the Azerbaijani fauna, including one species of round worms, crustaceans and molluscs, 74 species of insects, 6 amphibians, 14 species of reptiles, 9 fish, 72 species of birds and 42 mammals. Overall, Azerbaijani fauna includes 10-12 thousand species; 90% of them are insects.
The first category of the Red Book includes the species which population and habitat declined significantly or reached a critical level under the influence of negative factors. The representatives of flora and fauna which population just has a decreasing trend, were attributed to the second category.
The Red Book is an annotated list of rare and threatened of extinction animals, plants and mushrooms.
The first edition of the IUCN (The International Union for Conservation of Nature and Natural Resources) Red Book was published in 1963. It was a pilot publication with a small circulation. The two-volume book included information on 211 species and subspecies of mammals and 312 species and subspecies of birds.