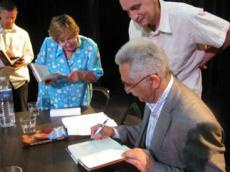 The 62nd International Phenomenological Congress on theme: "Power of Space and ontopoetic genesis of life" was organized on August 8-10 at National Centre of Dramatic Art in Paris.
The congress, organized by the World Institute of Phenomenology, was attended by about 100 well-known experts from 23 countries worldwide. The first meeting discussed organizational issues. Corresponding Member of the National Academy of Sciences of Azerbaijan, Professor Salahaddin Khalilov was elected as a board member of the Congress.
The plenary session of the Congress heard following reports on different aspects of philosophy. Khalilov gave a presentation on theme "Unity of philosophical traditions of East and West in the phenomenology of life." Another report on the theme "Unity of Al-vujut and logo of life: comparative philosophy" was made by Azerbaijani philosopher Konul Bunyadzade.
Presentation of the book "The phenomenology of life or the life of ideas" by Salahaddin Khalilov took place at the Congress. The book, which was published in English, is the first book of Azeri author in the field of phenomenology. The book is dedicated to the founder of phenomenology, a prominent American scientist, Anne-Therese Tyminski.
German Professor Detlef Guenther said at the presentation, "I believe that this work is a continuation of the tradition laid down by Anna-Teresa Tyminski for decades."
/
AzerTAc
/