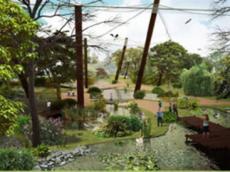 Last week, introduction and public discussion of the new Zoological park was held at the building of Jeyranbatan settlement representation of Absheron District Executive Power by "Ekodenge Engineering and Consultancy LTD" compan
y that prepared the design, construction and development plan of the project. Residents of Jeyranbatan settlement, as well as representatives of certain Non-Governmental Organizations (NGOs) and several mass media members partook at the event.
The executive director of "Ekodenge Engineering and Consultancy LTD" company Tamer Yonem and project manager Yavuz Yontam gave thorough information on the stages and course of the project to the event participants, presented slide show of the project sections, and answered the questions from the audience.

/eco.gov.az/