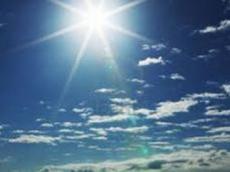 The weather will be rainless during next 2 days, but the temperature will continue rising in comparison with last days.
The press service of the Ministry of Ecology and Natural Resources told APA that the weather will be rainless and dry in Baku and Absheron peninsula.
Mild north-west wind will blow. The temperature will be 20…25 C at night, 30…35 C in the daytime.
Temperature of sea water at Absheron beaches will be 25...26 C in Sumgayit, Novkhani, Pirshaghi, Nardaran, Bilgah, 26…27 C in Zagulba, Buzovna, Mardakan, Shuvalan and 27…28 C in Turkan, Hovsan, Shikh and Sahil.
The weather will be mainly dry in Azerbaijan's regions on August 2.
But lightning and intermittent rain is expected in some northern and western regions of Azerbaijan. West wind will blow.
The temperature will be 20…25 C at night, 32…37 C in the daytime, in mountains 11…16 C at night, 21…26 C in the daytime.

/APA/