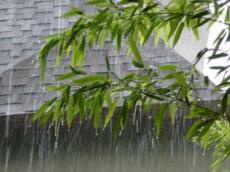 Tomorrow, the weather will be cloudy and it will be raining occasionally in Baku and Absheron peninsula. The Ecology and Natural Resources Ministry reported that strong north-west wind will blow.  The temperature will be 20-23 C at night, 27-30 C in the daytime and 22-24 C in the second half of the day.
Temperature of sea water at Absheron beaches will be 22- 23 C in Sumgayit, Novkhani, Pirshaghi, Nardaran, Bilgah, 23-24 C in Zagulba, Buzovna, Mardakan, Shuvalan and 25-26 C in Turkan, Hovsan, Shikh and Sahil.
The lightning and rain is expected in Azerbaijan's regions. West wind blow and intensify occasionally in some places. The temperature will be 18-23 C at night, 26-31 C in the daytime, in mountainous 8-13 C at night, 15-20 c in the daytime.
/Today.Az/