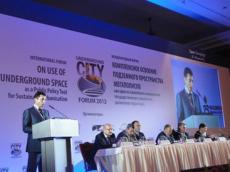 General Consul of Azerbaijan in St. Petersburg, Russian Federation Mr. Gudsi Osmanov participated in the opining ceremony of the 1st International Forum on use of underground space as a public policy tool for sustainable urbanization on Wednesday.
Gudsi Osmanov made a speech on underground space development in Azerbaijan. He underlined the successful implementation of projects on modern underground tunnels, pedestrian passages, car parking and new metro stations construction initiated by Azerbaijani government.
Along with Gudsi Osmanov, the opening ceremony brought together Igor Metelsky, vice Governor of Saint Petersburg, Alexandr Vakhmistrov, CEO of LSR Group, First Vice President of NOSTRO and Bruce Turner U.S. Consul General in St. Petersburg.
The event is co-organized by the Ministry of Regional Development of the Russian Federation, the Saint-Petersburg City Administration, the International Tunneling and Underground Space Association (ITA), the National Union of Builders (NOSTROY), the National Union of Designers (NOP), the National Union of Surveyors, the Guild of Property Managers and Developers (GMD or GUD).
The forum is attended by 500 scientists and experts from 11 countries. The purpose of the International Forum in St. Petersburg is a radical change of an integrated development of underground space in Russian cities, the transition from the practice of indiscriminate construction of underground structures to elaborate models of using underground space.
/
AzerTAc
/