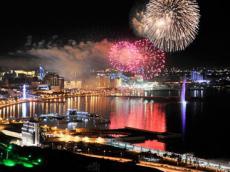 A grand fireworks show was organized on Friday at the Baku Boulevard  on the occasion of the National Salvation Day. Earlier, a concert took place here with the participation of the local singers.


*****
15.06.12
 12:15
A concert will be organized at the National Sea Park, Baku Boulevard in connection with the June 15- National Salvation Day .
Local singers will perform at the concert that will start at 21:00 [local time]. Also, a grand fireworks show will be at 23:00 [local time] upon the Baku City Executive Power's initiative.
/Day.Az/